Cold Molded Boat Construction
The Gougeon Brothers began experimenting with boat building while they were kids growing up near the Saginaw Bay. As young adults, they developed a novel boat construction technique based on laminating wood veneers with their proprietary epoxy formulation. Their strong, fast sailboat started winning regattas, leading other competitive sailors to commission them to build a number of high-profile racing sailboats, both monohulls and multihulls.
Let's take a look at some of the boats the Gougeon Brothers have built over the years.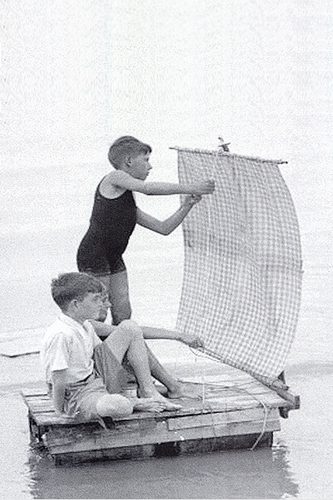 Sailing Barge
It is no exaggeration to say that the Gougeon brothers engaged in building experimental sailboats their entire lives. In the summer of 1947, Meade adjusts the (literal) sheet while younger brothers Jan and Joel look on.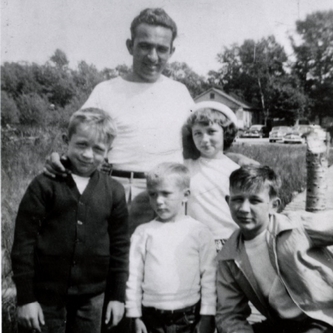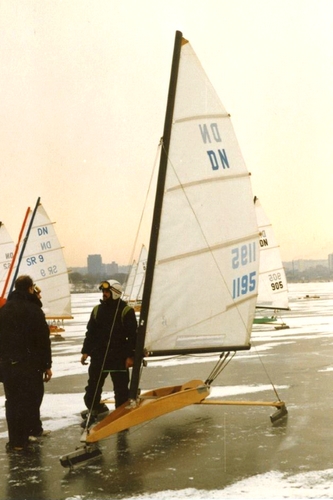 DN Iceboats
Living in Michigan, "hard-water sailing" is one way to extend the season. The narrow fuselage, rigging, reduced friction, and sailing angles of DN iceboats (designed by Arrol, Lodge, and Jarret for the Detroit News) would heavily influence all of Meade and Jan Gougeon's boat designs.
The Gougeons' first commercial enterprise was building DN iceboats.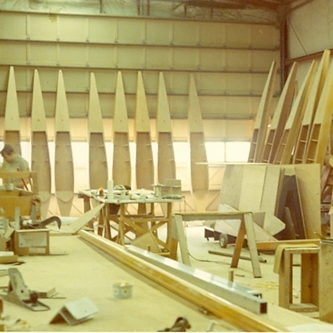 DN 1195 Photo credit: Henry Bosset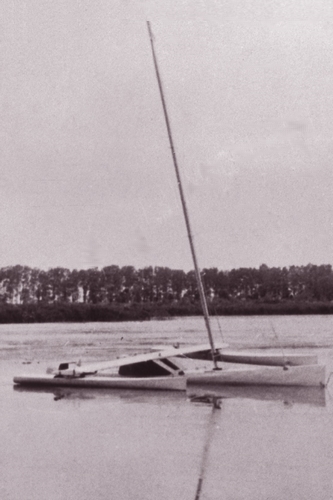 E1
Meade was living in Erie, PA when he built his first trimaran. He called it E1 for "Experiment number one." He considered this 1963 multihull "a disaster" and didn't have a lot to say about it, other than it had "too many moving parts."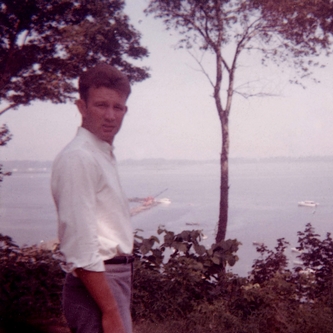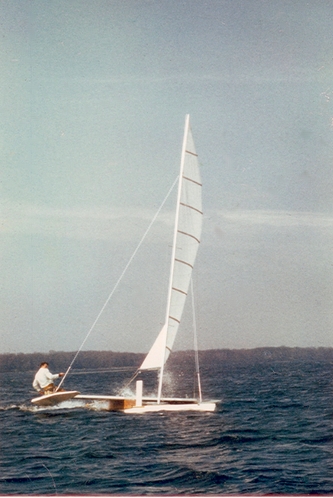 Pencil
Meade's constructed his second experimental trimaran, Pencil, under an apartment carport in 1964. Built much too light, Pencil broke under her own weight shortly after her launched.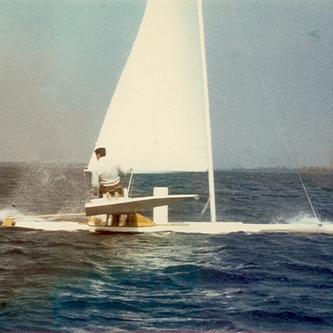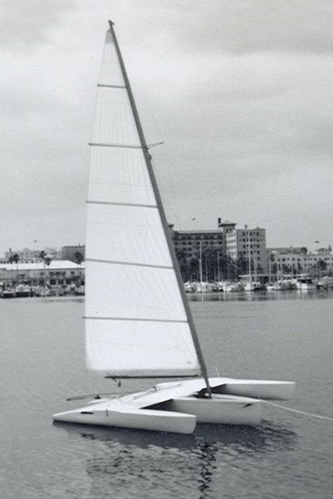 Wee Three II
This was Jan's second version of his Wee Three design (not pictured). The lee ama broke clean off of the original. In 1965, Jan built Wee Three II to be sturdier, and to meet IYRU Class-C rules. Note that she is rigged with a wingmast, much like a DN iceboat.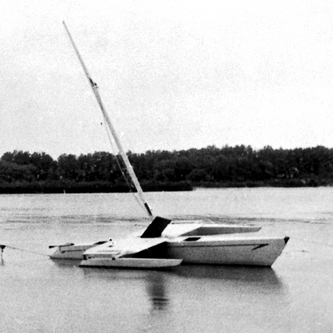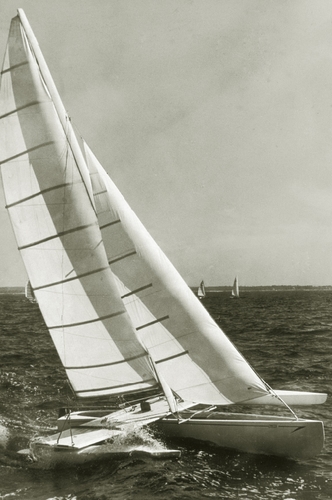 Omega
Omega, a 25′ trimaran built in 1965, was the first boat the brothers designed with articulating amas. This experimental trimaran performed very well at Yachting magazine's One-of-a-Kind Regatta in 1965. This success on the racecourse brought notoriety to the Gougeon name in multihull circles.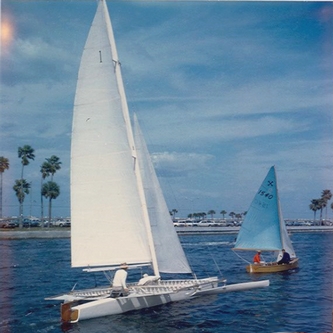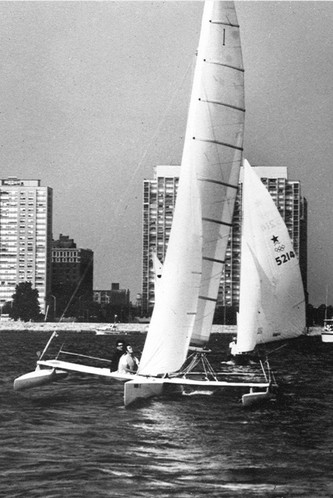 Victor T
Meade Gougeon designed and built Victor T, which he launched in 1969. At just 320 lbs, she earned the distinction of being the lightest Class C competitor in the 1969 Nationals in Hamilton, Ontario. There, Victor T took home the win against a strong field of wingmast-powered catamarans.
Back in the day, budgets were tight so Meade repurposed the sails he'd used on Omega (above).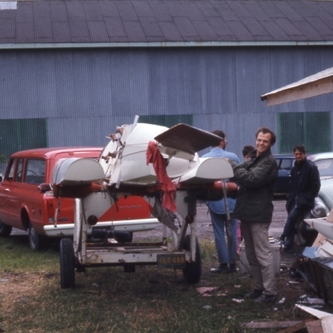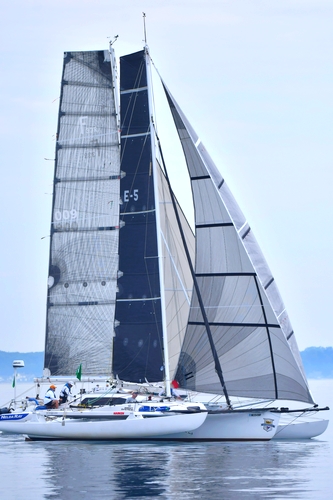 Adagio
Launched in 1970 and pictured here in 2018, Meade Gougeon's 35′ trimaran Adagio was the first large, all epoxy bonded and sealed wooden boat built without the use of fasteners. Meade and Jan Gougeon constructed her in just six months. She's been sailing on the Great Lakes ever since and continues to be a serious contender in the Mackinac races.
Adagio is proof that epoxy-bonded monocoque structures can last for generations.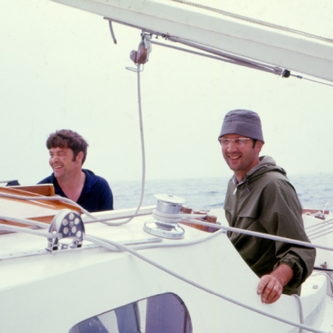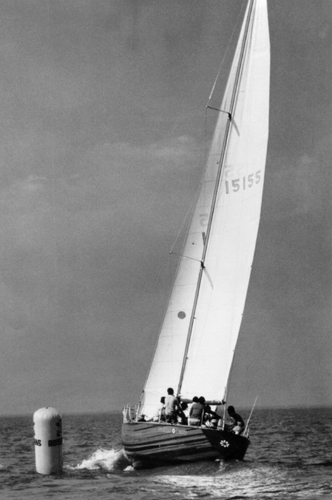 Golden Dazy
Another notable cold-molded boat: the Ron Holland-designed Golden Dazy. Launched in 1973, she won the 1975 Canada's Cup. The success of these wood/epoxy composite boats led to a "mini-revolution" amongst builders and designers. They realized that they could build stiffer and stronger hulls with wood and epoxy than they could with fiberglass, and do so without increasing the weight. Many custom builders continue to choose wood and epoxy as their construction materials today.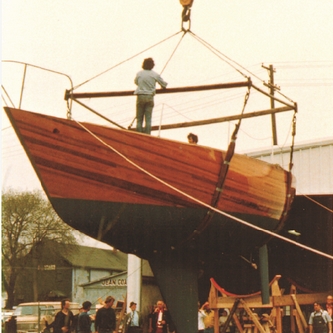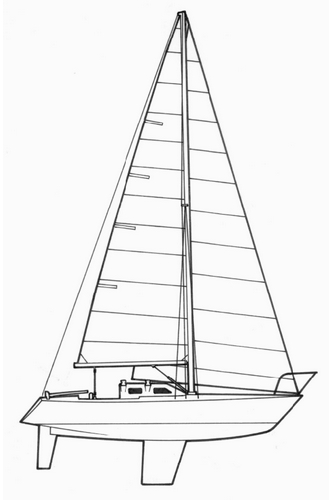 Hot Flash
Built in 1976, Hot Flash was a cold-molded, fast, half-ton racing monohull designed by Gary Mull. The Usnis brothers, who sailed out of Detroit's Bayview Yacht Club, commissioned the Gougeons to construct her with wood and WEST SYSTEM Epoxy. The boat was later rechristened Boomerang.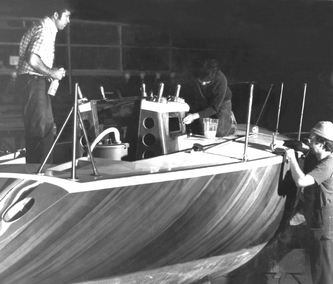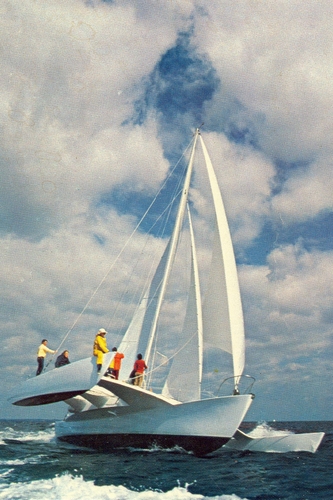 Rogue Wave
In 1977, the Brothers built Rogue Wave, a Dick Newick-designed trimaran, for Phil Weld to race in the 1980 OSTAR challenge. Unfortunately, a rule change meant Weld never got the opportunity. This impressive 60′ cold-molded trimaran was among the larger boats the Gougeon brothers built.
Photo credit (right): Polly Brown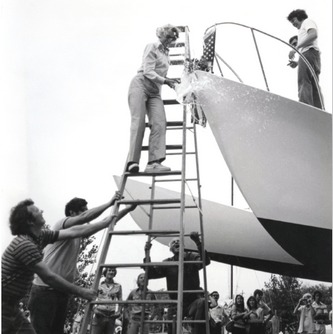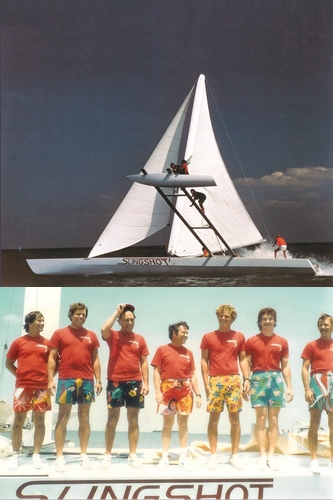 Slingshot
The Gougeons launched the 60′ proa Slingshot in June 1978. Commissioned by Georg and Carl Thomas, Slingshot competed in the 1979 speed trials in Weymouth, England, recording the second-fastest speed. Racing the ditch in Texas City, Texas in 1980, the crew posted a speed of 38 knots.
Unfortunately, Slingshot came loose from her mooring during a storm and got destroyed when the waves dashed her against the rocks. A salvaged section of her bow still hangs in the Gougeon boatshop
Slingshot's crew included Jan Gougeon, Mike Zutek, Ron Sherry, and Olaf and Peter Harken.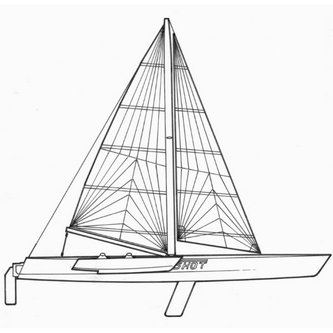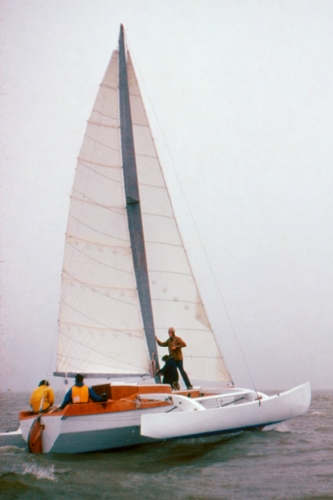 Flicka
This 1979 Gougeon-designed and built wooden cruising trimaran capsized in the Atlantic in 1980 during a qualifier for the OSTAR challenge. Sailing solo, Jan Gougeon spent four long days in Flicka's capsized hull. He had plenty of time to think about rightable trimaran designs before a passing freighter rescued him. Flicka had to be abandoned at sea.
Read more about Flicka's capsize at Epoxyworks.com.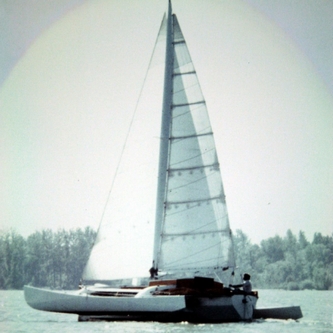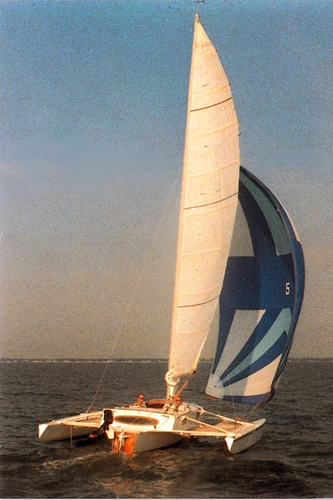 Atom
Jim Brown designed this 27′ freshwater trimaran and longtime GBI Technical Advisor, Captain James R. Watson built her in 1979. Watson elaborates:
This boat sports an experimental wingmast constructed of 1/16″ thick aircraft birch plywood outer skin, 1/64″ thick plywood inner skin separated with 1/2″ Tricell H™ (resin impregnated paper) honeycomb. It was fitted to the boat five years after initial launching. With some reinforcing stringers, this laminate stack was lightly vacuumed while flat, then folded and placed into a form to establish an airfoil until all cured.

James R. Watson, Wood/Epoxy Longevity, Epoxyworks 17
Photo credit (left): Janet Townley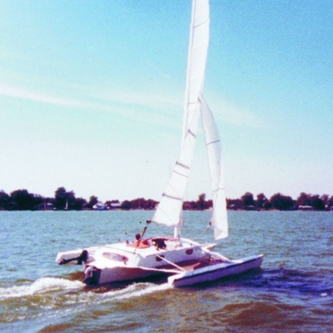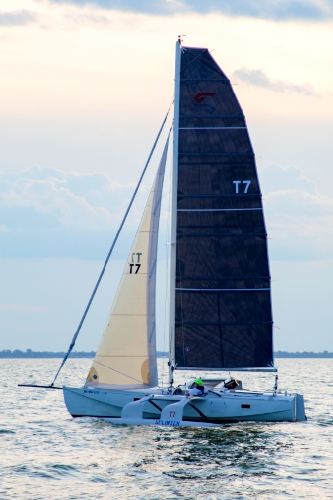 Splinter
In 1980, Jan began building Splinter. Following his terrifying experience aboard Flicka, he designed this developed plywood trimaran to be rightable if capsized. Splinter was the second boat, after Adagio, the Brothers launched with a wingmast. Pictured (at right) in 2019, she still competes on the Saginaw Bay against other noteworthy Gougeon-built multihulls including Adagio and Ollie.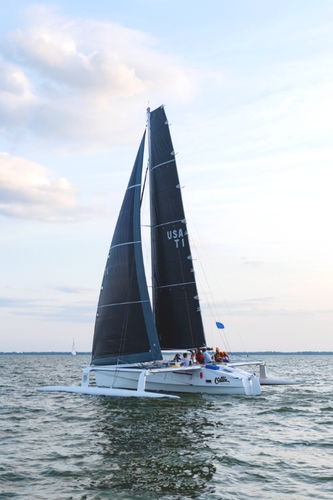 Ollie
Named after the Gougeons' grandmother, Ollie was started in 1984 using the Gougeon brother's developed plywood technology. The design was trademarked as a Stressform™ 35 along with Stressform wingmast plans. Ollie's design further advanced Jan's ideas for self-righting multihulls.
Jan was always thinking of the next boat and had an appetite for solo sailing. After the Atlantic capsized of Flicka, every boat he designed was self-righting. Ollie (right) acing on the Saginaw Bay in 2019.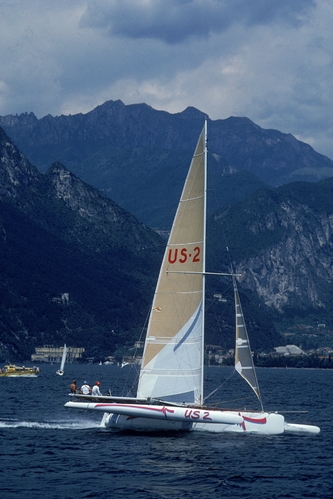 Adrenalin
Adrenalin is a Formula 40 Trimaran with articulating amas. GBI built her for Bill Piper of Ossineke, Michigan in 1987. This boat amazed the sailboat racing world by taking an extremely close second place during her first regatta: the Formula 40 Grand Prix circuit in Brest, France, in April of 1988.
A Formula 40 rule change later legislated Adrenalin out of contention.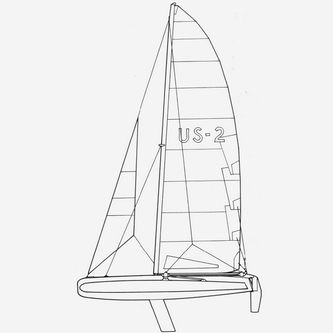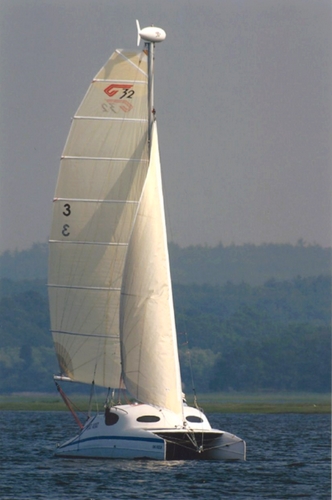 G-32
The G-32 is an innovative 32'catamaran designed and built by the Gougeons in the early 1990s. These production boats feature a water-ballast system, are self-righting, and are trailerable. The masthead float doubles as a wind vane and prevents the boat from going completely upside down if capsized.
The Gougeons conceived the G-32 as an affordable cruising and racing vessel but it didn't achieve market success in the short time that it was produced. The fourteen that they built are still racing and sailing today.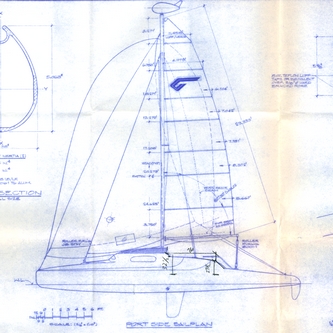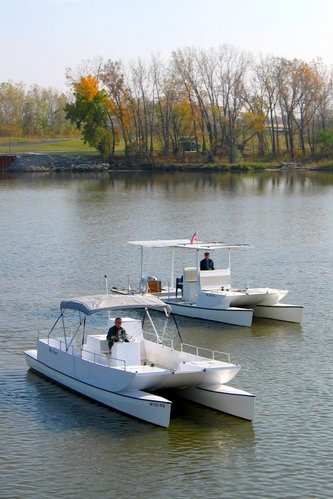 Gougmarans
Meade and Jan's first powerboats were these 32′ Gougmarans launched in 2007. Based on Dick Newick-designed hulls, the brothers conceived these comfortable shallow-water cruisers for stability, low wetted surface, minimal wake, and excellent fuel efficiency.
Read more in Birth of the Gougmarans at Epoxyworks.com.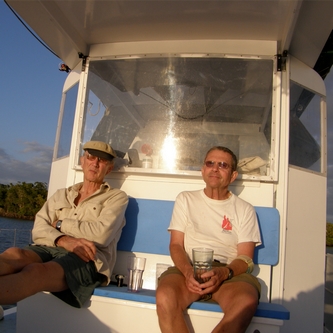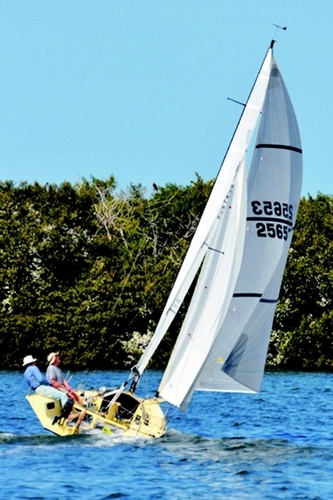 Hot Canary
Chris Beckwith designed the i550, an 18′ stitch-and-glue sportboat. The Gougeon Brothers built Hot Canary in 2011 and raced in the Everglades Challenge.
She is now under new ownership and has been renamed Vivacious. Read the story about how her new owners refit her for camping/cruising.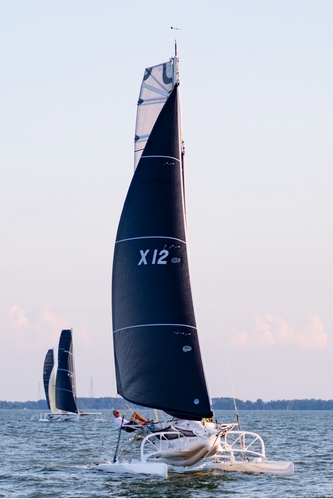 Strings
Jan Gougeon's final boat project was Strings, a 39'7′ "folding cat with a fuselage. He launched her in 2011. She has long, narrow hulls and a center cabin that rides above the water. An elaborate network of lines (aka strings) makes this ingenious boat perfect for solo sailing.
Although Jan passed away in 2012, Strings sails on, competing in regattas on the Great Lakes.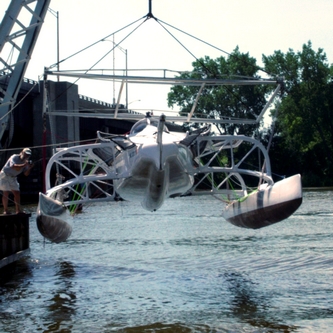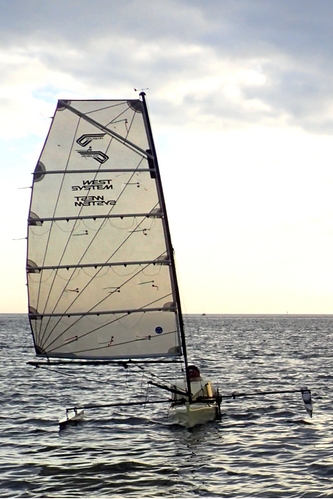 Elderly Care
This was the last of several boats Meade designed and built for competing in the grueling, 300-mile Everglades Challenge. An outrigger sailing canoe, Elderly Care provided accommodations for Meade to sleep at night and race during the day. His tactic worked: He place first in his class in the 2017 Everglades Challenge just five months before he passed away at age 78.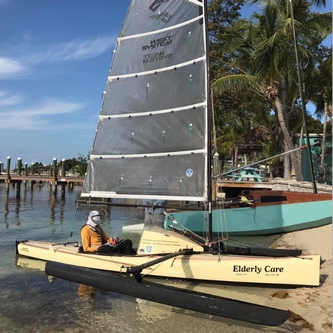 The Gougeon Brothers' experiments in boat design